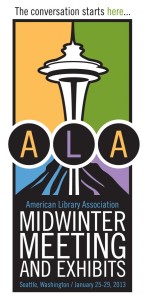 Makerspaces in Libraries: An Idea Whose Time has Come  … by Mary Alice Osborne
The American Library Association  Midwinter Conference was abuzz with ideas and energizing conversations about how libraries can highlight and support the DIY movement by installing a Makerspace with high-tech tools such as 3D printers, Arduinos and hands-on, creative activities.
In their presentation: "The New Stacks: the Maker Movement Comes to Libraries", Dale Dougherty, founding editor of MAKE Magazine, and maker Travis Good, discussed the DIY culture and the return to the days when young people were often "making" things. Today, these activities are enabled by Makerspaces. This is a unique opportunity for libraries to reinvent their space in this era of rapid change.
Are Libraries Ready for the Transition to a Makerspace? Travis presented an overview of his cross-country tour, visiting libraries at different stages of creating Makerspaces within their facility. From his observations, he described the environmental issues that must be addressed for a Library to plan and implement a successful Makerspace. The Library's culture must be comfortable with an environment that is somewhat different: Noisy vs. Quiet, On-going Programs vs. Single use, Making tools vs. Traditional tools, Multi-use vs. Dedicated space, and Dirty vs. Clean environment.
At ALA, YourDuino founder Terry King and I (his Librarian wife Mary Alice Osborne) met with vendors and librarians, promoting Arduino projects and the YourDuino Low-Cost Starter Set as a great resource for Makerspaces and for Arduino enthusiasts in general. Terry demonstrated an Arduino-controlled indoor/outdoor temperature sensor, that can be viewed by anyone online. He presented a talk about Arduino: What it is and how it is the "Erector Set" for future generations of Makers. His presentation follows.
ALA Seattle was an excellent opportunity for Terry and I to learn about the Maker movement in Libraries. YourDuino.com wants to strongly support the Maker movement with kits and educational materials to help people learn how to use these uniquely creative devices!
Examples of Makespaces in Libraries:
The Detroit Public library has created a Makerspace. Steve Teeri is Makerspace conductor at Detroit Public Library's HYPE (Helping Young People Excel) Teen Center. Here is his presentation that we saw at ALA:
Here is an article about one of the first Makerspaces in a Library: FabLab at Fayettville NY Public Library: http://www.libraryasincubatorproject.org/?p=3335
If you are involved with a school or library and want to promote the idea that Shared Resources can go beyond books and DVDs to Tools and Educational Kits, and Spaces for Makers to meet, learn and collaborate on projects, follow us here, or email maryalice@yourduino.com